Part I: Pêşveçûnê Ji bo 500kVA, 11kV Transformer Dry Dryer
Em teknolojiya pêşkeftina teknolojî ya ji Ewropayê veguhestin, teknolojiya patent, pisporên taybetî yên taybet ji bo 500kVA, transformer type dry transformer dry dry 11kV casten. Mîrk ji çarçoveya çermê germî ya germî ya germî ya çermî ya zêrîn tê çêkirin, ku di çarçoveya gera GEORG de TBA-ê-yê TBA-ê û pergala pênc-armanca teknolojî ya gav-pêngavê ya teknolojî, bi karûbarên no-loadê ve bikar bîne. ya bingehîn ku çêtirîn çêtir dike. Ji hêla epoxyona Amerîkaya HUNTSMAN ya Amerîkayê ve ji bo pirtûka ku ji pişka mazûlkirina kelêleya razînê ve ji hêla HEDRICH, Elmanyayê ve hatibû veguhestin tête pejirandin. Materyalên winda dike ku rêkêşiya baş baş dike, no bubbîlan pêk tê, ku bi awayek kêmûrek perçeyek herî kêm dibe. HV û LV bi hev re hevgirtî bi hev re, ku hêza hêza avahiyê û kapasîteya ku ji bo qada kurt û vibrasyonê ve tête bicih dike. Di bin mercên xizmeta normal de, jiyanê xizmetê ya transformer-ê 30 sal e. No cracker li ser rûyê transformasyona hilweşînê çê bibe ku ji ber guherîna germahiya ku hewayî veguherîner di nav guhertina xizmeta normal de ye.
Part II: Pêşniyarên hilberîn
1. Neh-nizan û kêm-kêmbûnê:
a) Şirovek guhdarî ji bingehîn tê. Pirtûka ji kalîteya bilind ya germî ya germî ya germî ya rûsî hatiye çêkirin. Pirtûka kêlînan ji hêla gavên otomatîk-gera sereke ya GEORG, Elmanyayê ve têne hilberandin. Ev rêbazê belavkirina belavkirina mîkrojîkê û encama ku di asta dengê kêmtir dibe.
b) Transferkarê pîvanê bilind ya sîlonê ya kîloyê paqij dike ku ji densityê mûzîkî ya herî kêm ji navendê xwe ya saturationê dûr dike û hengîkokî di bingehîn de kêm dike, û winda û nerazîbûna hilweşandina no-load kêm dike.
c) Hemû pargîdan ji bo dorpêçkirina bikaranîna pîlankirinê silicon û rûbirên hêsantir têne bikaranîn ku ji bo kêmkirina amplitude û dengê parçeyên kêm bikin, dema ku rûya bingehîn tedawî ye, ku roleke rastdar dike.
2. Ava nehêl, nebaweriyê li hawîrdorê
a) Hêzên elektrîkê yên tehsîlkirî yên ji kalîteya bilind ya razîn dikare bi hêza elektrîkê ya (hilberandina voltage≥34kv / mîlyon) û berdêlên partî dikare di qada ≤5pC de têne kontrolkirin.
B) Çawa ku amûreke materyalê lihevhatinê di bikaranîna dry-type transformer de tê bikaranîn, dema germê (65ml / kîlok). Têguherek hebe ku taybetmendiya agir-retardant û xweserkirina xweseriyê ye, hingê dê ji ber ku di çarçoveya kurteya kurt de bête çêkirin û nexas û dûmanên zehf û zehf dê di asta bilind de hilberandin.
c) Kûçik ji nemrîm û bingehîn e ku tedawî ye. Transferkar dikare di rewşeke 100% nîvê nermî de bi operasyonek domdar re domdar bike, û hewce ne hewce ye ku xizmeta wê ya ku ji bo nebatê hilweşîne.
d) Transfera Dryer jî fonksiyonên mezin hene, wekî hêza zêdebûna zêdebûna hêzê, stabilîzalek tedawî, pîvana maqûl, hêja sazkirinê; parastin û ji ber vê yekê veguherîna guhertoya Dry Dryer ên avahiyên bilind, navendên bazirganî, balafirgehên avêtin, stenbol, ports, sewayê, fabrîk û navendên belavkirinê yên erdê.
3. Methodê şîn:
Mûwayek şînkirina şanoya tîrêjê veguherîner di nav avê xwezayî ya hewayê de (AN) vekirî ye û hewa hişk (AF). Di bin şertên normal de, dema ku guhartina di bin avê xwezayî ya hewayê (AN) de dibe ku ev 100% kapasîteya xurtkirî tête hilberandin, dema ku guhartinê di bin hewa hişk (AF) de, wê hilberîna hilberê wê bi% 30 zêde dibe ku ji bo her cûreyên acîl, zêdekirin an operasyona navxweyî.
4. Pergala kontrola navendî:
Pergala kontrola avahiyê di bin kontrola avahiyê de û navenda PT100-ê de li ser qonaxa herî veguherînan-ê veguherînerê kontrola karmendê karmendiya germê ya germ û kontrolkirina her qonax. Ew ê gavê rêwîtiya kulikê bisekinin ser sînor. Under the air conditioning cooling condition, the controller of temperature can automatically start the fans of the winding start or stop. Germkirina çavkaniyê ya winda û bingehîn, hilberîna 4-20mA analog an jî RS485 pêwendiya komputerê dikare li gor daxwazên mêvandarên ku ji bo hewceya birêveberiya xweseriya xweseriya elektrîkê ya modern a destûra nûjen tê pêşkêş kirin.
Part III: Parastina sereke ya hilberê
Capacity

(kV*A)

Model

No-load Loss

(kW)

Load Loss

(kW) 120oC

No Load Current (%)

Short-circuit Impedance (%)

Total Weight

(kg)

Dimensions

LxWxH (mm)

Enclosure dimensions

LxWxH (mm)

Gauge Distance

DxE (mm)

500

SC10-500/11

1.160

4.88

1.0

4.0

1470

1185x870x1045

1700x1350x2200

660x660

SC11-500/11

1.050

4.88

1.0

4.0

1490

1185x870x1045

1700x1350x2200

660x660

SC12-500/11

0.930

4.88

1.0

4.0

1510

1185x870x1045

1700x1350x2200

660x660

SC13-500/11

0.835

4.39

1.0

4.0

1530

1280x870x1200

1700x1350x2200

660x660
Part IV: Hilbijêre Outline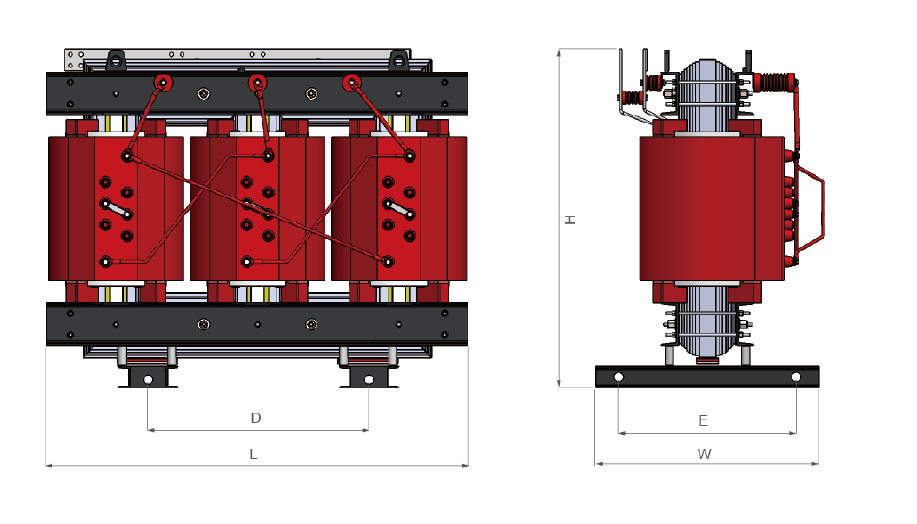 Kategorî : Dry Type Transformer > 11kV Transformer Dry Dryer